You can always set yourself the following daily, weekly or monthly limits for independently controlling your betting and gambling habit:
Maximum deposit per day / 7 days / 30 days
Maximum loss per day / 7 days / 30 days
Maximum stake per day / 7 days / 30 days
These limits can be set for both sports betting and Casino games.
Deposit Limits
Deposit limits allow you to specify how much money you would like to deposit into your customer account. This allows you to limit the amount of money going into your account before even placing a bet or joining a Casino game. For example, where you set this deposit limit at €100.00 per month but try to deposit a total of €110.00, the system will automatically block the deposit.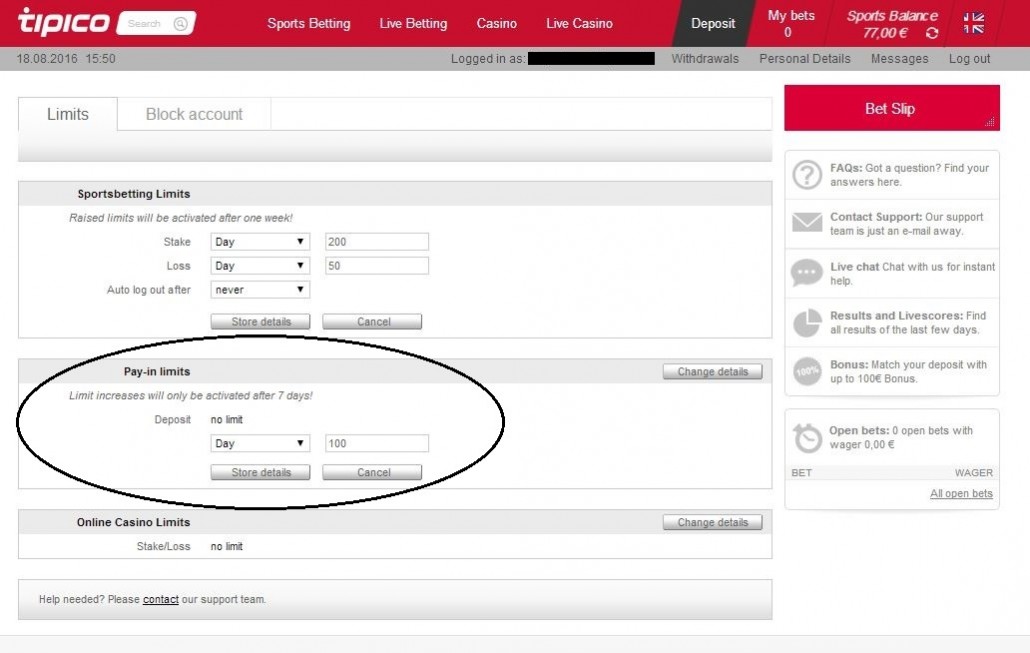 Loss Limits
Loss limits, on the other hand, allow you to specify how much you can afford to lose over a specific period. For example, where you have a loss limit of €200 for the month and have already placed three bets, two for €50.00 and one for €100.00, your loss limit is reached if you lose all three bets.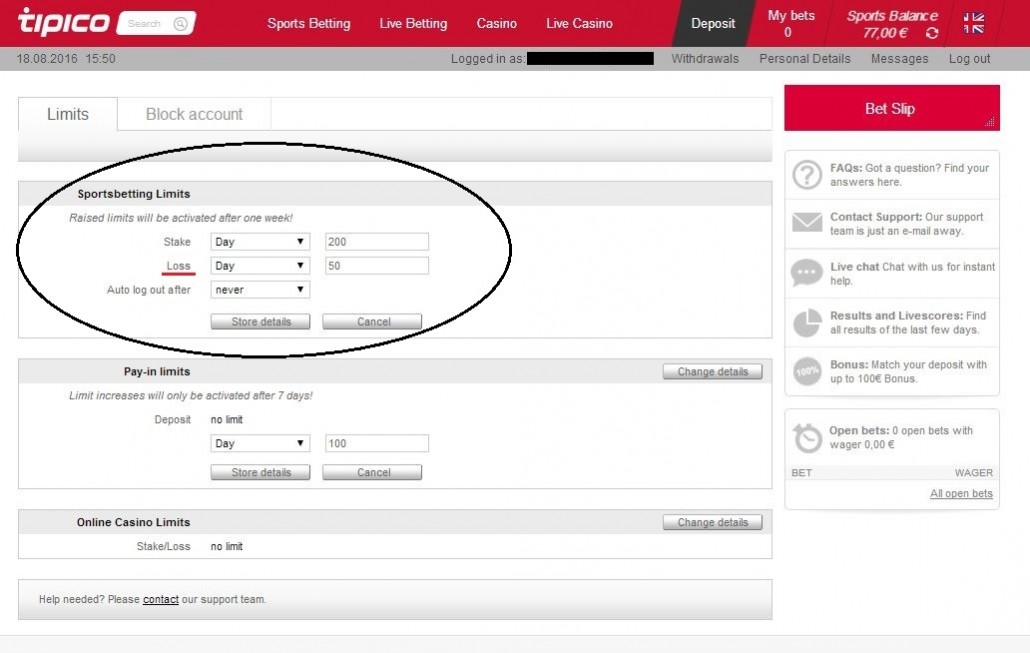 Stake Limits
Stake limits allow you to set how much money in your customer account you would actually like to spend on a daily, weekly or monthly basis. This means that with a stake limit of €100.00 per week, you can only use this €100.00 as a stake regardless of your actual balance, which for example could be €200.00.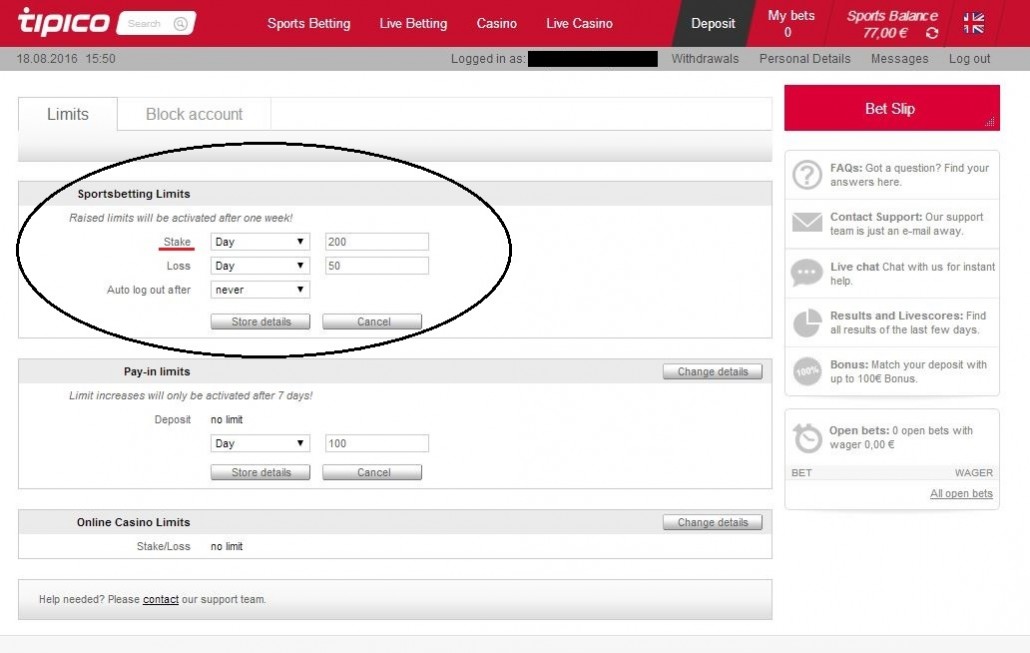 Setting the Limits
You will find the option for setting limits in your customer account under your 'Personal Details' and then 'Limits and Block'.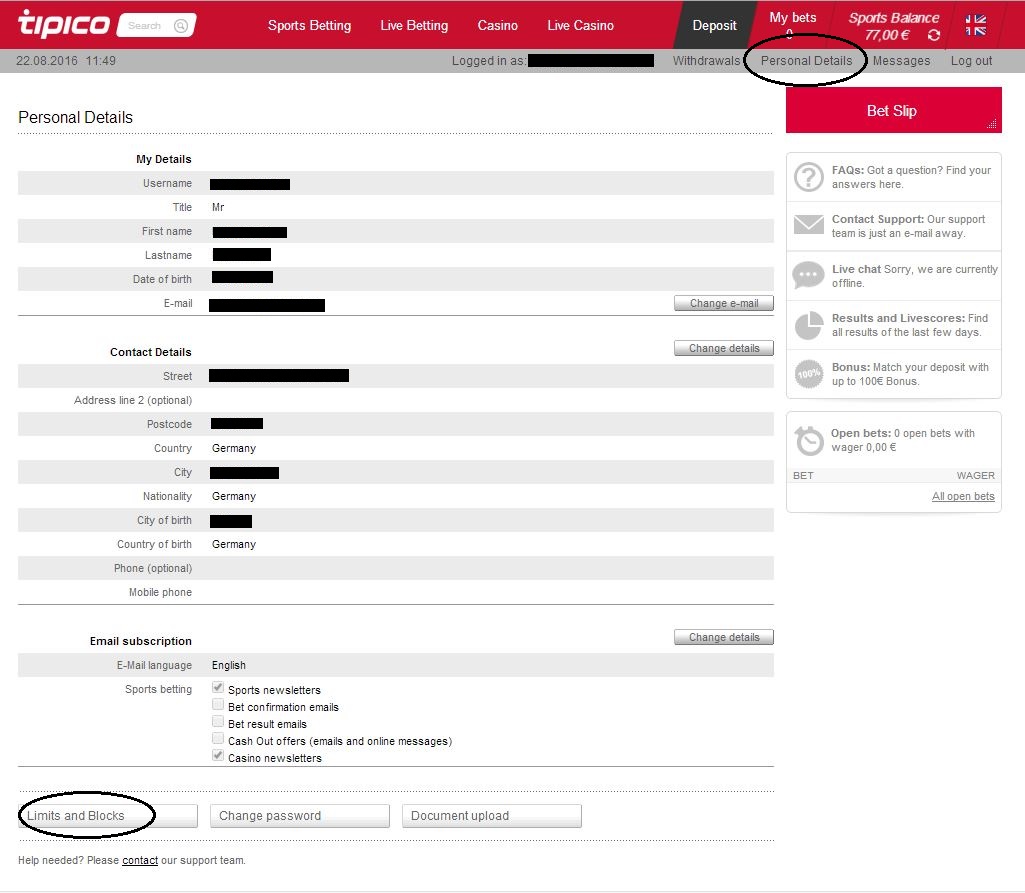 Alternatively you can contact us and request such a limit to be set. We also reserve the right to set these limits for you of our own accord if we deem it necessary for reasons of player protection. You will of course be informed of this.
Changing Limits
A request to increase your limits again does not invariably enter into effect until after a seven-day protective period. Where, however, your limits are reduced, these new limits apply to stakes immediately.
Games Limits
Of course, you can also set limits in Tipico Games. Just login to your Tipico Games account. In the area "limits & closure", you can then set your personal limits.
Automatic Logout
Along with the aforementioned traditional limits you can also specify whether you should be automatically logged out from your account.
Set yourself a limit with regard to the number of bets you place and do not wager more than you're prepared to spend on entertainment.